Jospehine Roufaiel - Managing Director
19/591 Withers Road Rouse Hill New South Wales 2155
* Full color 3D Printing Services
We exclusively use HP 3D High-Reusability CB PA 12, MJF technology HP580, a highly malleable polymer perfectly suited to complex 3D prints and produces brilliant, full-color functional parts while maintaining optimal mechanical properties.
We work with many boutique clients to create full-color 3D prints. Some of our works include medical models, consumer goods, figurines, rapid prototyping models, and more. 
Empower your team to create fully functional, full-color, engineering-grade parts today.
* 3D Printing Post Process Services
Achieve a smooth surface finish with an injection molded look and feel. Sealing is an integral finishing touch for 3D printed objects. A high-quality seal ensures that your 3D product, model, or prototype is protected and won't lose its dimensional accuracy. That's why 3D Explorer uses AMT PostPro Chemical Vapour Smoothing SF50.
PosPro is compatible with all powder-bed and filament-based printing technologies, including SLS, HP MJF, FDM, FFF, FGF, and more.
Your vapour-smoothed parts will have:
• Improved mechanical properties
• Injection-moulded surface quality
• More vivid colours
• No more than a 0.4% dimensional change
• Full sealing against liquid and gas intake
• Greatly reduced bacteria growth and attachment
We are also the developer of venEyes 3D Printed customised Eyewear– Leading the charge in manufacturing of 3D printed frames in Australia using MJF color 3D Printing and the latest technology of postprocessing of AMT vapour smoothing.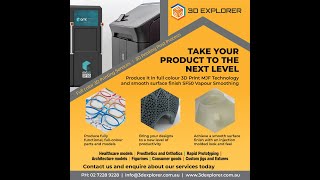 Capabilities
Industry Sectors
Aerospace, Defense, Electrical, General Engineering, Plastics and Chemical
Additive & Digital Manufacturing
Polymer
Surface Treatment
Polishing, Sandblasting, Vapour Deposition